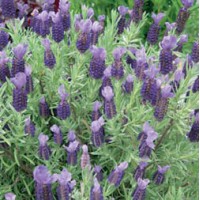 Lavender Devonshire Compact
Lavender devonshire compact, very rich dark purple flower from late Spring on neat compact evergreen foliage. Attractive to bees and butterflies. Lightly trimming foliage after flowering encourages a second burst of flowers. Suited to a sunny well drained site, good for container growing.
Lavender Hidcote
Lavender hidcote, a compact lavender suited to growing in borders or perfect for dwarf hedging. Dense silver-grey foliage covered in fragrant blue flower spikes in mid-summer. To encourage flowering and help retain its shape, remove dry flower stalks in late summer then early spring. Best suited to well drained soil in a sunny position.
Lavender Munstead
Lavender munstead, a compact lavender which produces dense spikes of fragrant blue-purple summer flowers above aromatic grey-green foliage. Lovely as a dwarf hedge. Flower spikes are highly attractive to bees and butterflies. Trim faded flower spikes and trim the plant in April to retain shape.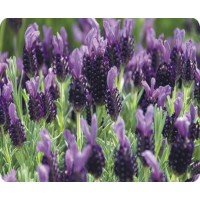 Lavender Night Of Passion
Lavandula St Night Of Passion, a compact mound forming aromatic lavender. Silvery foliage and purple flowers with similar coloured 'ears'. Grows best in a sunny site and suits local soils, also drought tolerant. Ideal for containers and borders. Height & Spread 60cm x 60cm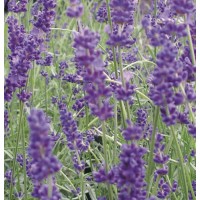 Lavender Vera
Lavandula Angustifolia Vera, a vigorous aromatic shrub with silver/grey foliage. Fragrant lavender blue flowers from July. Best grown in a sunny site, suited to local soils and drought tolerant. Ideal for containers or borders. Height & Spread 80cm x 80cm